Ammar al-Baluchi
(aka Ali Abdul Aziz Ali)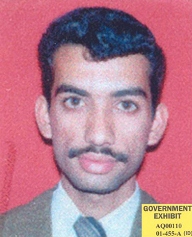 Photo: Human Rights Watch
Nationality: Kuwaiti
Date of Birth: 29 August 1977
Aliases: Ali Abdul Aziz Ali
Capture: Karachi, Pakistan, 29th or 30th April 2003
Detentions: Pakistan, unknown locations, Guantánamo
Current Status: Detained in Guantánamo
Timeline of Key Events
29/30 April 2003
Captured by Pakistani Intelligence Bureau and Pakistani rangers, Karachi, Pakistan
Late April 2003
Transferred to US custody
April 2003 to September 2006
Secretly detained by CIA, location(s) unknown
4 September 2006
Transfer to US Department of Defense detention facility, Guantánamo Bay, Cuba
Analysis
Ammar al-Baluchi was born in Kuwait on the 29th of August 1977. He moved with his family to Iran in 1988 and spent time gaining a Microsoft certification in Karachi, Pakistan, between 1996 and 1998. Al-Baluchi is the nephew of Khalid Sheikh Mohammed. Al-Baluchi was captured alongside Walid Bin Attash and four others, on either the 27th or 30th of April 2003 in Karachi, Pakistan, by the Pakistani Intelligence Bureau and a team of Pakistani rangers. US records of the date of his capture differ; it is listed as 30 April 2003 in the US Department of Defense Joint Task Force-Guantanamo Detainee Assessment for al-Baluchi, but Walid bin Attash's Detainee Assessment states that Bin Attash was captured with al-Baluchi on 27 April 2003. Al-Baluchi's transfer to US custody is likely to have occurred very soon after his capture.
The US government alleges that he was involved in funding the 9/11 attacks and was involved in a foiled plan to attack the US's consulate in Karachi, Pakistan. It is alleged that the detainee had in his possession a compact disk containing a letter to Osama Bin Laden and images of the 9/11 attacks. He is also said to have had a small amount of cyanide, which the detainee states was of the type used in clothing factories. Furthermore, it has also been claimed that the detainee was in possession of explosives and detonators. There is some disparity between the accounts of al-Baluchi's possession of explosives. In a US Department of Defense Joint Task Force-Guantanamo Detainee Assessment it is stated that '[a]ccording to reporting, local authorities also seized 150kg of high explosives and detonators during the raid' that saw al-Baluchi captured. However, in a transcript of al-Baluchi's Combatant Status Review Tribunal it is stated that al-Baluchi was arrested 'as he waited for the delivery of explosives for an alleged plot against the United States Consulate in Karachi, Pakistan'. It is not possible to say if these two conflicting references relate to the same explosives or if, as may be the case, the Pakistani forces carrying out the operation captured al-Baluchi and then waited for the delivery of the explosives to take place and seized them. In any case, al-Baluchi denies these charges.
The details of al-Baluchi's detention following his transfer to US custody in the spring of 2003 and up to September 2006 are unknown. According to Human Rights Watch he was held in secret CIA detention. This period may well have involved periods of detention at multiple sites and numerous transfers.
Al-Baluchi was transferred to Guantánamo Bay Naval Base on the 4th of September 2006. His transfer was announced by President George W. Bush on the 6th of September 2006. The announcement was made as part of a wider disclosure that revealed that al-Baluchi was one of 14 'high value detainees' that had been transferred to Guantánamo Naval Base. When the announcement was made the Bush administration released a document containing brief biographies of these 14 detainees. The location from which al-Baluchi was transferred to Guantánamo is unknown.
Al-Baluchi sat before a Combatant Status Review Tribunal Review Hearing on the 30th of March 2007. The session ran from 13:29 to 14:55. The main charges against the detainee (that he was involved in the financing of al-Qaeda and the planning of a foiled attack against the US Consulate in Karachi, Pakistan) were briefly laid out and he had a chance to refute these allegations. Al-Baluchi was offered the opportunity to give evidence under oath; this offer was declined.
Further Reading
Department of Defense (2006) Detainee Biographies
Department of Defense (2006) JTF-GTMO Detainee Assessment – Ammar al-Baluchi
Department of Defense (2007) Verbatim Transcript of Combatant Status Review Tribunal Hearing for ISN10018
Human Rights Watch (2011) Ali Abdul Aziz Ali (AKA, Ammar al-Baluchi)
Worthington, Andy (2010) UN Secret Detention Report (Part One):The CIA's "High-Value Detainee" Program and Secret Prisons