Follow us on Twitter: @renditionprjct
Rendition Flights Database
Our Rendition Flights Database has been compiled in collaboration with Reprieve, and represents the world's largest set of public flight data relating to those aircraft suspected of involvement in the global network of renditions, secret detention and torture. The interactive here has been produced in collaboration with Craig Bloodworth from The Information Lab, and allows users to search for, and visualise, renditions flights from the underlying database.
We hope that by bringing together the data into one place, researchers across the globe will be able to help build a clearer picture of the movements of aircraft associated with the renditions network. In particular, we hope to identify those flights which can be linked to known or suspected detainee transfers between secret detention sites, or which may have played a subsidiary role in servicing the global system of secret detention and interrogation.
The Rendition Flights Database currently contains flight data on 122 US-registered civilian aircraft, as well as some military flights into Guantanamo Bay. In total, the current version of the database contains over 11,000 individual flights, many of which have been logged by more than one source of data. Of particular importance have been the results of a Freedom of Information project by Access Info Europe and Reprieve, that has unearthed significant new flight data on renditions aricraft. This has not been integrated before now, and sits in our Database alongside data from Eurocontrol, Council of Europe and European Parliament investigations, and a range of other sources. As the project develops, new data will be integrated as it is released into the public domain.
Rendition Fights Database Guide
This guide has been produced in collaboration with James Ball at The Guardian Datablog.
The Rendition Flights Database above shows in great detail the data behind every confirmed and suspected rendition flight, as well as a huge number of other flights of the aircraft linked to rendition. In total, the data powering the graphic runs to more than 11,000 lines.
Of course, that means that the graphic is complex, so this guide is intended to help users read and interpret it. Before attempting to use the Database for detailed analysis, is also suggested that users read our Note on Methodology and our Words of Caution. These pages provide some context to the compilation of the data, and the tagging of circuits as 'rendition circuits' or 'suspicious circuits'. They also introduce key caveats which need to be borne in mind when using the Database (such as the important point that not every flight contained within the interactive is tied to rendition: some are suspected rendition flights, others are simply flights from planes with tail numbers that were used on suspected rendition flights).
Picking what to look at
By default, the graphic above shows a huge tangle of different flight routes - it is displaying information on the 1,500 or so flights marked as significant within the data: the ones with some suspected involvement in rendition. It is possible to remove this initial filter by clicking on the 'key circuits only' drop-down.
The graphic is easiest to use if this is narrowed down. The graphic is broken down into 'circuits' of flights: a full trip made up of several different legs.
Rendition of Zubaydah and al-Nashiri, Thailand to Poland, December 2002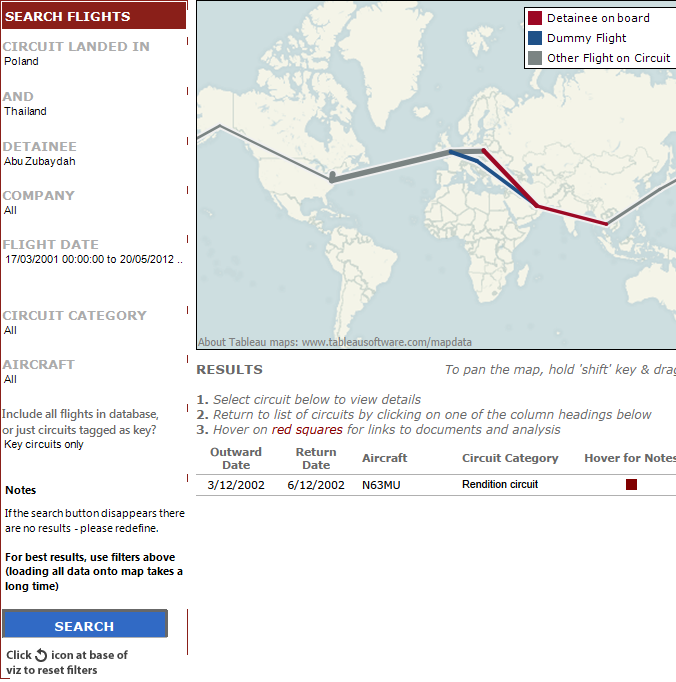 Circuits can include original journeys from the United States, so-called 'rest and relaxation' (R&R) stops in the Caribbean or the Canaries, refuelling stops, and the central rendition journeys themselves.
The menu on the left-hand side of the graphic gives a range of ways the information can be narrowed down in a number of ways.
For example, circuits can be narrowed down to those involving particular individuals known to have been targets of rendition.
All rendition circuits involving Abu Zubaydah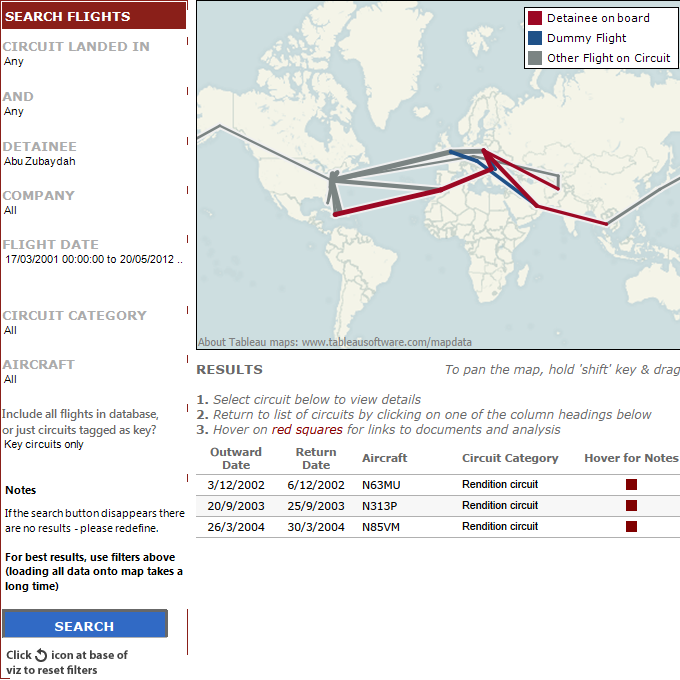 Cicuits can also be narrowed down using the left-hand search menus as follows:
Trips involving stops in one or two countries, for example, Afghanistan and Morocco
Trips involving particular companies (whether these owned, operated or leased the aircraft, or otherwise provided logistical services for the circuit)
Trips involving particular aircraft (listed by their registration number, also known as their tail number)
Trips for a particular date range that can beselected using the sliding toggles.
Hitting the large "SEARCH" button at the bottom-left will then update the map with the new settings.
What the different colours mean
Different individual flights are colour-coded by their significance.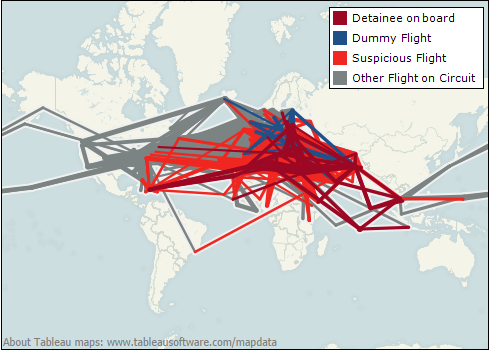 The simplest flights are marked in grey. These are legs of the flights where we have had no reason to believe there was any detainee aboard the aircraft. These mark refuelling stops, planes getting into position, R&R stops, or similar.
At the other end of the scale, strong red lines mark a flight designated a 'rendition flight'. These are flights where we are as near as possible as investigators on these topics can be to certain that a detainee – often a named detainee – was aboard the plane. These are backed by a wealth of evidence, which can be accessed via the notes button next to each circuit, or via the left-hand menu at the top of this page.
Paler red lines mark 'highly suspicious' or 'suspicious' flights - one where the route and/or timings strongly suggest either a rendition flight, or a logsitics flight servicing the secret prisons network. In this context, it is worth noting that some of the 'suspicious' flights have been flagged because of very similar routes or timings to flights tied to rendition, rather than specific evidence on that particular flight.
The blue lines are perhaps the most interesting, as they shed light on the lengths US authorities went to in attempts to hide rendition flights. Blue designates 'dummy' flight plans: routes handed in to air traffic authorities, and then never flown. Instead, the planes flew to entirely different airfields - often in different countries altogether - typically with a detainee on board.
Getting the evidence
The table below the map provides basic details of the circuits displayed. Hovering over the red squares on the right will supply some basic information on the circuit, along with a range of links to our analysis of that particular circuit, aircraft and detainee(s).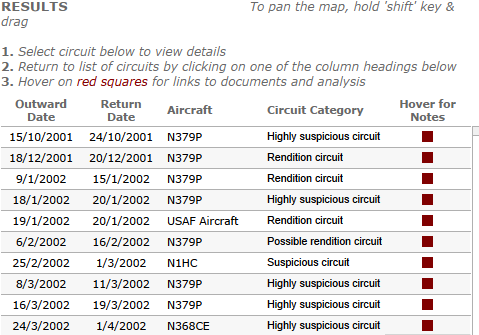 Clicking on any row in this table will advance the graphic, displaying just that circuit on the map, and producing a new table view with each individual leg of that flight circuit, ordered chronologically.

Further information
We intend for the graphic to be used to reveal evidence of further rendition flights - or to shed more light on those already uncovered. Please contact us with any findings you establish, or with any flight data that we have omitted. All contributions will be properly acknowledged on this site.
We ask that all users of the Rendition Flights Database:
Credit all uses of our DATA in all publications (both online and in print) in the following way:

Sam Raphael (2013), Rendition Flights Database, available online: http://www.therenditionproject.org.uk/global-rendition/the-flights/index.html, accessed [date].

Credit all uses of our ANALYSIS in all publications (both online and in print) in the following way:

Ruth Blakeley and Sam Raphael (2013), [Title], avilable online: http://www.therenditionproject.org.uk/..../...../......html, accessed [date].

Read and take careful note of our Words of Caution before drawing any conclusions.