Tawfiq al-Bihani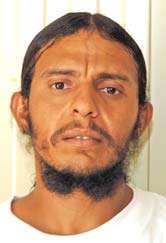 Nationality: Yemeni
Date of birth: 1 June 1972
Place of birth: Tabuk, Saudi Arabia
Aliases: Tolfiq Nassar Ahmed al Bihani, Khalid al-Tabuki, Abdullah Bin Ali al-Lufti, Bahbah, Abu Nasser, Twafiq al-Bihani
Capture: Zahedan, Iran, late 2001 or early 2002
Captured alongside: Rafiq al-Hami (possibly)

SSCI prisoner number: 19
Entered CIA custody: 29 September 2002 – 28 October 2002
Period of CIA custody: 50-59 days
Left CIA custody: 18 November 2002 – 26 December 2002
Detained: Iran, Afghanistan, Guantánamo Bay
Current status: detained, Guantánamo Bay
Tawfiq al-Bihani is a Yemeni national who, according to DoD records, was captured in late 2001 or early 2002 by Iranian police. While in Iranian custody, al-Bihani was detained at numerous sites in Mashhad and Tehran. He remained in Iranian custody until mid-March 2002, at which point he was transferred to Afghan custody. Another CIA prisoner, Rafiq al-Hami, was captured in Iran at around the same time and was held in CIA custody for the same amount of time as al-Bihani, before also being transferred to Guantánamo Bay. The two men may have been held and transferred together.
According to statements made by al-Bihani to his lawyer, he was initially held in an Afghan prison, "where he and the other prisoners from Iran were hidden from Red Cross representatives until one of their fellow prisoners informed them of their existence." During his first interrogation at the site, "I was handcuffed behind and they put a hood on my head so that I could not see anything. When I entered the interrogation room, the American guards pushed me down to the ground in a very savage manner. They started to cut my clothing with scissors. They undressed me completely and I was nude. They made me sit on a chair and it was very cold. I was also afraid and terrorized because the guards were aiming their weapons towards me. The interrogator put his personal gun on my forehead threatening to kill me." Al-Bihani was held at this site for around 10 weeks, and then moved to a second site where he was held in solitary confinement for over five months.
Analysis by The Rendition Project and the Bureau of Investigative Journalism has established that al-Bihani was transferred into CIA custody at some point between 29 September 2002 and 28 October 2002. According to calculations published by the SSCI, he was held by the CIA for alomost two months (50-59 days). CIA records cited in the SSCI report document his detention in the CIA-run DETENTION SITE COBALT, where he was subjected to 72 hours of sleep deprivation before one interrogation session. This use of "enhanced interrogation techniques" was not authorised by CIA Headquarters. According to al-Bihani:
"This was absolutely the worst prison. It was a very dark prison and there was no light, no bed or a carpet, the floor was semi cement. The restraints on my feet were very tight; they put me into a cell and kept me hanging tied to the wall for almost ten days. The irritating music 24 hours a day was very loud and hard banging on the door. When I used to go for interrogations, I was unable to walk because of the restraints on my legs and tightness on my feet. Would fall down to the ground and scream that I cannot walk. They would pick me up from the ground and I would walk with them while they were hitting me on the way to the interrogation until I would bleed from my feet. When I would fall to the ground, they would drag me while I am on the ground. Then they would bring me back to the cell and sprinkle cold water on me. Sometimes they would put a weapon on my head threatening to kill me using some provocative statements which I cannot mention in this letter.
After ten days, they brought me down from the hanging position and made me sit on the floor. Then they tied my hands upwards for approximately one month so that I could not lie down on the floor for comfort, therefore I was unable to sleep except for quarter of an hour every day. After one month and ten days, they removed all my restraints, however I was unable to rest or sleep because of extreme hunger and cold and the loud irritating music and the banging on the door. I stayed in this prison for approximately two months and a half and I had no idea whether it is day or night as it was extremely dark and oppressive conditions."
Despite this treatment, CIA records cited by the SSCI report show that al-Bihani did not meet the required standards for CIA detention. Indeed, he was never suspected of having information on, or a role in, terrorist plotting, but was interrogated simply because he was believed to have been present at a suspected al-Qa'ida guesthouse.
Analysis by The Rendition Project and The Bureau of Investigative journalism shows that al-Bihani left CIA custody at some point between 18 November 2002 and 26 December 2002. This is corroborated by DoD records which state that al-Bihani was transferred to US military custody, initially at Bagram Airbase, in mid-December 2002. He was then transferred to Guantánamo Bay on 6 February 2003, where he remains.
Sources
SSCI, Committee Study of the Central Intelligence Agency's Detention and Interrogation Program , 9 December 2014
DoD, JTF-GTMO Detainee Assessment: Tolfiq Nassar Ahmed al Bihani, 14 January 2009
New York Times, The Guantánamo Docket: Tolfiq Nassar Ahmed al Bihani