Shah Wali Khan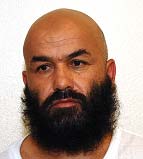 Nationality: Afghan
Date of birth: 1963
Place of birth: Arghandab, Kandahar Province, Afghanistan
Aliases: Shawali Mohammad Zey
Capture: 15 November 2002

SSCI prisoner number: 33
Entered CIA custody: 15 November 2002 – 9 December 2002
Period of CIA custody: 20-29 days
Left CIA custody: 5 December 2002 – 7 January 2003
Detained: unknown, Guantánamo Bay, Afghanistan
Current status: unknown
Shah Wali Khan was first identified as a CIA prisoner in the Appendix to the SSCI report, where he was listed as detainee #33. Analysis by The Rendition Project and the Bureau of Investigative Journalism has established that he was transferred into CIA custody at some point between 15 November 2002 and 9 December 2002. According to calculations published by the SSCI, he was held by the CIA for just under a month (20-29 days), believed to have been transferred out of CIA custody at some point between 5 December 2002 and 7 January 2003.
Although nothing more is said about Khan in the report, the dates of his detention match closely with those of former Guantánamo Bay prisoner
Shawali Khan
. Assuming that these are the same individuals,
DoD records
document that Khan was captured by US Special Forces on 15 November 2002. He was then transferred to CIA custody where, according to
calculations published by the SSCI
, he was held for 3-4 weeks. Nothing is known about his fate and whereabouts during this time although, in an apparent reference to his period of CIA detention, Khan
testified to the Combatant Status Review Tribunal
that "they tied our hands and left us hanging like this for one month. They put us in a small box."
DoD records
show that Khan was transferred to Guantánamo Bay on 6 February 2003, likely after being held at Bagram Airbase for several weeks. He was held in Guantánamo Bay until 20 December 2014, at which point he was
transferred to Afghanistan
. His current whereabouts are unknown.
Sources
SSCI, Committee Study of the Central Intelligence Agency's Detention and Interrogation Program , 9 December 2014
DoD, JTF-GTMO Detainee Assessment: Shawali Khan, 22 October 2008
DoD, Combatant Status Review Tribunal Transcript: Shawali Khan, 9 September 2004
New York Times, The Guantánamo Docket: Shawali Khan