Zakariya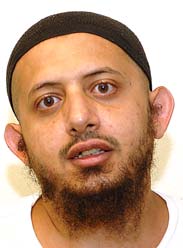 Nationality: Yemeni
Date of birth: 1975
Place of birth: Al-Bayda, Yemen
Aliases: Omar Mohammed Ali al-Rammah, Isa, Handhala, Abu Amr, Abu Zakaria al-Yemeni, Ali Husayn, Mikhlafi, Mustapha Boudsila, Zaghul, Zakaria
Capture: Georgia, 28 Apr 2002
Captured alongside: Jamal Boudraa, Abbar al-Hawari

SSCI prisoner number: 2
Entered CIA custody: 30 April 2002 – 2 May 2002
Period of CIA custody: 370-379 days
Left CIA custody: 5 May 2003 – 16 May 2003
Detained: Georgia, Afghanistan, Guantánamo Bay
Current status: detained, Guantánamo Bay
Zakariya is a Yemeni national who was captured in Georgia on 28 April 2002 and sold to the CIA. He was captured alongside two other men, Jamal Boudraa and Abbar al-Hawari, and all three were detained by the CIA in Afghanistan. According to DoD records, Zakariya was captured by men who drove into the car he was driving in. He fainted, and awoke handcuffed and being beaten in the back of another vehicle. He was then held in a warehouse for four days, before being driven to another location, examined, then taken to an airport and put on a plane.
Abbar al-Hawari, captured and detained alongside Zakariya, testified at his Combatant Status Review Tribunal at Guantánamo Bay that: "There was four of us. Myself, my friend Abdal Haq [Boudraa], a Yemeni guy name Zackria, and a Chechnya driver, who was killed... The Americans didn't capture me. The Mafia captured me. They sold me to the Americans. When I was captured, a car came around and people inside were talking Russian and Georgian. I also heard a little Chechen. We were delivered to another group who spoke perfect Russian. They sold us to the dogs. The Americans came two days later with a briefcase full of money. they took us to a forest, then a private plane to Kabul, Afghanistan."
On the basis of the testimondy of these men,
analysis by The Rendition Project and the Bureau of Investigative Journalism
has established that they likely entered CIA custody between 30 April 2002 and 2 May 2002. According to
calculations published by the SSCI
, Zakariya was held in CIA custody for over a year (370-379 days), although nothing else is known about his fate and whereabouts during this time. He would therefore have left CIA custody at some point 5-16 May 2003.
DoD records
document his transfer to US military control at Bagram Airbase (without giving an exact date), and then his transfer to Guantánamo Bay on 9 May 2003. He remains detained at Guantánamo Bay.
Sources
SSCI, Committee Study of the Central Intelligence Agency's Detention and Interrogation Program, 9 December 2014
DoD, JTF-GTMO Detainee Assessment: Omar Mohammed Ali al-Rammah, 21 April 2008
New York Times, The Guantánamo Docket: Omar Mohammed Ali al Rammah