Abou Elkassim Britel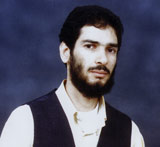 Photo: American Civil Liberties Union
"My interrogators told me that would harm my family, and I was told that worse torture and death were to come"
Nationality: Moroccan
Date of Birth: 18 April 1967
Capture: 10 March 2002, Lahore, Pakistan
Detentions: Lahore and Islamabad, Pakistan; Témara and Salè, Morocco
Current Status: Released, 14 April 2011
Timeline of Key Events
10 March 2002
Captured and detained, Lahore, Pakistan
5 May 2002
Transferred and detained in Pakistani Intelligence HQ, Islamabad
24 May 2002
Rendition to Morocco
25 May 2002 - 11 February 2003
Detained, Témara prison, Morocco
11 February 2003
Released without charge
16 May 2003
Re-captured, Melilla, Spanish-Moroccan border
16 May 2003 - 16 September 2003
Detained, Témara prison, Morocco
16 September 2003
Transferred to Salè prison, Morocco
16 September 2003 - 14 April 2011
Detained in various Moroccan prisons
14 April 2011
Released
Analysis
Abou Elkassim Britel was born in Morocco in 1967. He emigrated to Italy in 1989 and became a naturalised Italian citizen in 1999. He is a qualified electrician and has worked with his wife to translate Islamic books and texts from Arabic to Italian. In June 2001, he travelled to Iran to seek financial support and conduct research for his translation work, and from there travelled around the Middle East and into Pakistan.
On 10 March 2002 Britel was detained by the Pakistani police and interrogated at a detention facility in Lahore. In court testimony, he alleges that he was tortured psychologically and physically: 'I was beaten severely, sometimes with a cricket bat, deprived of sleep, my hands and feet were bound and I was hung from the walls and ceiling of my cell for extensive periods of time. I was denied access to a toilet, my interrogators told me that would harm my family, and I was told that worse torture and death were to come'.
After weeks of torture, Britel states that he broke and falsely confessed to being a terrorist. At that point, he was brought before US officials who photographed him and took his fingerprints. They told him that if he refused to cooperate, the Pakistanis would kill him.
On 5 May, Britel was transferred from Lahore to the Pakistani intelligence headquarters in Islamabad. On four occasions he was taken, blindfolded, to a house where he was interrogated by US intelligence agents, one of whom identified himself as 'David Morgan'. During interrogations, the Americans continually asked him about his links to Osama Bin Laden.
At his last interrogation, Britel was told that he would be released and returned to Italy. However, on 24 May, he was handcuffed and blindfolded and transported by car to an airport, in preparation for his rendition by the CIA to Morocco. His account of the treatment meted out to him at the airport mirrors the accounts of many other rendition victims:
I was grabbed around the neck from behind so tightly I thought I would suffocate. I was forced into what seemed to me to be a small bathroom where my clothes were sliced off me. My blindfold was then removed and I saw four or five men dressed in black from head to toe, with only their eyes showing. I was photographed, had a diaper put on me, and was dressed in a torn t-shirt. I was again blindfolded and placed in a metallic slip and chained to the shackles that bound my hands and feet.
Britel testifies that he was forced onto a small aircraft, and that there was one other detainee on the aircraft. Flight data and associated documentation demonstrate that Britel and the second detainee were rendered on board the CIA-owned Gulfstream V jet with registration number N379P. The logistical aspects of the rendition were arranged by Jeppesen Dataplan, a subsidiary of Boeing, Inc. which provided flight planning services for multiple renditions. N379P left Islamabad at about 2am local time on 25 May, flying direct to Rabat, Morocco. During the flight, Britel has stated that 'I was instructed not to move, and when I did I was hit or kicked. My back began to hurt during the flight and I asked permission to change positions. My request was refused and instead I had my mouth taped shut'. Click here for an analysis of the flight data and documentation associated with Britel's rendition from Pakistan to Morocco.
On arrival in Rabat, Morocco, on 25 May 2002, Britel was transferred into the custody of the Moroccan intelligence services, and taken to the Témara prison. In Témara, Britel was held in isolation and deprived of adequate food and sleep for more than eight months. During interrogations he was handcuffed, blindfolded, and beaten. He was also threatened with worse torture, including genital mutilation and so-called 'bottle torture' (where a bottle is forced into a detainee's anus). The interrogators also threatened to torture his female relatives living in Morocco.
Without charge, trial or explanation, Britel was released from Témara on 11 February 2003. He was suffering from chronic dizziness, diarrhoea, permanent damage to his left eye and ear. He was bruised all over, and had no hair where he had been repeatedly beaten.
On release, Britel continued to be harassed and threatened by the Moroccan intelligence services. As he was attempting to leave Morocco to travel back to Italy, he was detained again and returned to the secret Témara prison. This time, Britel was again held incommunicado and, under torture, was forced to sign a confession that he was not even allowed to read.
On 16 September 2003, Britel was transferred to the Salè prison. He then stood trial on 3 October on charges of planning and carrying out terrorist acts. He was convicted and sentenced to 15 years in prison, a sentence that was based in part on the signed confession obtained under torture. On appeal, the sentence was reduced to 9 years.
In January 2007, 62 members of the Italian parliament, 25 Italian senators and 12 members of the EU parliament supported a request to the Moroccan authorities to pardon Britel. Italy also petitioned the king of Morocco. He was finally released on 14 April 2011, following a pardon from the king.
Investigations and Accountability
In May 2007, Abou Elkassim Britel was included as one of three plaintiffs (later joined by two more), in a case filed against Jeppesen Dataplan alleging complicity in their rendition and torture. Ultimately, however, the case itself was not heard in court, after the US Government intervened, asserting 'state secrets privilege' and claiming that the litigation would damage national security interests. In arguing that the Government's intervention should not be allowed to stand, Britel submitted a declaration in November 2007 outlining the facts in his case. Click here for further discussion of this case, and a collection of relevant documents.
Further Reading
Binyam Mohamed et al v Jeppesen Dataplan, Inc., December 2007, Declaration of Abou Elkassim Britel in Support of Plaintiffs' Opposition to the United States' Motion to Dismiss