Abu Omar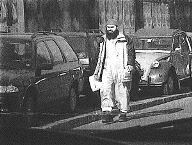 Photo: CIA surveillance, Wikimedia Commons
Full name: Hassan Mustafa Osama Nasr
Nationality: Egyptian
Date of Birth: 18 March 1963
Aliases: Abu Omar
Capture: 17 February 2003, Milan, Italy
Detentions: Cairo, Egypt
Current Status: Released, 17 February 2007
Timeline of Key Events
17 February 2003
Capture, Milan, Italy, and transfer to US airbase at Aviano, near Brescia
17 February 2003
Rendition, Italy-Egypt (via Germany)
17 February 2003 - 20 April 2004
Detention, Torah Prison, Cairo
20 April 2004
Release, Egypt
12 May 2004
Re-capture, Alexandria, Egypt, and transfer back to Cairo
12 May 2004 - 17 February 2007
Detention, Cairo, Egypt
17 February 2007
Release
Analysis
Hassan Mustafa Osama Nasr, a.k.a. Abu Omar, was born in Egypt in 1963. Having been detained and tortured by the Egyptian regime for his involvement in Egypt's militant Islamic Group, he was granted political asylum in Italy in 2001. In the lead up to the Iraq war of 2003, he campaigned against the invasion and occupation of Iraq. This sparked surveillance by the Italian authorities of his activities, and investigations into the contacts he kept. The Italian authorities alleged that he was recruiting fighters to go to Iraq and resist the occupation. He denies this.
On 17 February 2003 Nasr was apprehended in Milan by a man in a police uniform. He was bundled into a van where men in balaclavas beat, blindfolded and restrained him. The journey lasted several hours, and on arrival at what is now known to be the US airbase at Aviano, Nasr was prepared for his rendition to Cairo, via the Ramstein airbase in Germany. Common with other rendition victims, his clothes were cut off, a suppository was forcibly inserted into his rectum, his head was taped leaving holes only for his mouth and nose, and he was forced onto a CIA-contracted Gulfstream IV jet with registration number N85VM, operated by Richmor Aviation.
Once in Egypt, Nasr was held at two different detention sites, including the Torah prison complex, and subjected to numerous forms of torture. He recounted the torture in a lengthy interview to the journalist, Peter Bergen, published by Mother Jones:
His cell had no lights or windows, and the temperature alternated between freezing and baking. He was kept blindfolded and handcuffed for seven months. Interrogations could come at any time of the day or night. He was beaten with fists, electric cables, and chairs, stripped naked, and given electric shocks.
He was moved in the Autumn of 2003, and it was at this second detention site that he was subjected to rape:
Spreading his arms in a crucifixion position, he demonstrates how he was tied to a metal door as shocks were administered to his nipples and genitals. His legs tremble as he describes how he was twice raped.
In April 2004, after months of arbitrary detention and torture, an Egyptian court ruled that there was no evidence that Nasr had been involved in terrorism and ordered his release. As Bergen reports, he was, however, warned not to contact anyone in Italy, including his wife, and not to talk to the press or human rights groups. He was taken to his mother's house in Alexandria.
He did call his wife and a friend, and although he did not divulge many of the details, he said enough to alarm the Egyptian authorities. The Italian authorities were still tapping his home 'phone, and recorded the call to his wife. It is also thought that the Egyptian authorities were tapping the 'phone at his mother's house. Within weeks, on 12 May 2004, he was re-arrested and returned to imprisonment in Cairo. One way or another, in November 2006, journalists at the Corriere della Serra newspaper and magistrates in Milan received an account of Nasr's treatment that he had personally written. Added to the calls he had made in 2004, this constituted powerful evidence that enabled prosecutors to launch a case against the Italian authorities.
He was finally released in February 2007, on the condition that he remain in Alexandria and keep quiet, although the pursuit of the legal case meant that he didn't have to.
Legal proceedings
Deputy Chief Prosecutor, Armando Spataro took up Nasr's case. He had previously been involved in the surveillance operations to potentially build a terrorism case against Nasr. Bergen asked him, therefore, why he chose to launch a criminal cases against the CIA officers and Italian authorities that had been involved in Nasr's rendition. He responded:
Kidnapping is a serious crime. It is important for European democracy that all people are submitted to the law. It is possible to combat terrorism without extraordinary means.
His case was built on the carelessness of the various agents involved, for example, using unencrypted cell phones which enabled the prosecutors to prove the various transfers of Nasr from Milan to Aviano, Ramstein and then on to Cairo, the use of traceable credit cards to book hotels and the use by the CIA agents of their real rather than false passports.
23 Americans were tried in absentia in the Italian courts in 2009, after the US put pressure on Italy to suppress the extradition requests made to compel those accused from traveling to Italy and standing trial. Details of the pressure put on both the Italian government and prosecutors were exposed in a series of wikileaks cables, as explained by Glen Greenwald. 21 of the agents were sentenced to five years in prison, and the CIA Milan base chief, Robert Seldon Lady, was sentenced to 8 years in prison. His superior, Jeff Castelli, and two others were acquitted on grounds of diplomatic immunity. However, in early 2013 the appeals court sentenced Castelli to seven years in prison. All those convicted are now considered fugitives under Italian law.
Seven members of the Italian military intelligence agency were also tried. Their cases went to appeal, but in February 2003, the appeals court gave prison sentences to two senior Italian officials, Niccolo Pollari, former head of the Sismi military intelligence agency, for ten years, and his deputy, Marco Mancini, for nine years. Three other Italian agents were sentenced to six years, and were made to pay collective damages of one million euros to Nasr, and 500,000 euros to his wife.
Further Reading
Peter Bergen, Mother Jones, Exclusive: I was kidnapped by the CIA, March 2008.

Amnesty International, UK, Prison Sentences for Italian Intelligence Officials in Abu Omar Kidnap Case, 12 February 2013.

Glenn Greenwald, The Guardian, Italy's ex-intelligence chief given 10-year sentence for role in CIA kidnapping, 13 February 2013.

Der Spiegel, Prosecutor on Rendition Case: Kidnapping a 'Disgrace and should be prosecuted', 18 February 2013.

John Hooper, The Guardian, Italian Court Finds CIA Agents Guilty of Kidnapping Terrorism Suspect, 4 November 2009.

New York Times, Italy Convicts 23 Americans for CIA Renditions, 4 November 2009.

John Foot, London Review of Books, The Rendition of Abu Omar, 2 August 2007.