Gouled Dourad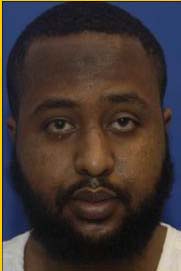 Photo: JTF-GTMO Detainee Assessment
Nationality: Somali
Date of birth: 1 April 1974
Place of birth: Mogadishu, Somalia
Aliases: Hassan Guleed; Hassan Ahmed Guleed; Hassan Darrad Gouled; Hanad Hassan Ahmed; Hanad Hasan Ahme Abu Jafar al-Sumali; Barise Guleed Xadiyo; Haidar
Capture: Djibouti, 4 March 2004
SSCI prisoner number: 102
Entered CIA custody: 10 March 2004 – 16 March 2004
Period of CIA custody: 900-909 days
Left CIA custody: 27 August 2006 – 4 September 2006
Detained: Djibouti, Guantánamo Bay (possible), unknown, Guantánamo Bay
Current status: detained, Guantánamo Bay
Very little is known about Gouled Dourad and his fate and whereabouts between his capture and disappearance in March 2004 and his reappearance as a Guantanamo detainee two-and-a-half years later. He is a Somali national who was living in Djibouti when, on 4 March 2004, he was captured by Djibouti authorities for his alleged involvement in terrorist activities. US authorities accuse him of being a member of East Africa al Qaeda and of planning terrorist operations in the region.
CIA records cited by the SSCI report note that, before Dourad's rendition to CIA custody, he was interrogated by CIA officials and "provided detailed information on his casing of Camp Lemonier" for a potential terrorist attack.
CIA cables show that Dourad was rendered to CIA custody on [redacted] March 2004, where the redacted figure is double digits. Matching flight data analysed by The Rendition Project indicates that he was likely to have been rendered from Djibouti on 8 March 2004, onboard a CIA-owned Gulfstream V jet with registration number N8068V (previously registered as N379P). His destination, however, remains unclear, given that the aircraft flew to Afghanistan, Morocco and Guantánamo Bay after taking off from Djibouti. Click here for our analysis of the flight data and documentation associated with Dourad's rendition from Djibouti.
According to analysis by Adam Goldman, in March 2004 Dourad was being held in secret CIA detention in Guantánamo Bay, but was then moved to Morocco with other so-called High-Value Detainees (HVDs). It may be, therefore, that after being picked up in Djibouti, Dourad was kept on board the aircraft during its onward flights to Afghanistan and Morocco, where other detainees may also have been picked up or dropped off, before flying on to Guantánamo. The aircraft landed in Guantánamo Bay on 11 March 2004, which would match with the double-digit transfer into CIA custody noted in CIA cables.
His whereabouts after this possible detention in the secret prison at Guantanmo are unclear. There is some evidence which points to likely locations for the whereabouts of some of the High Value Detainees during 2005-2006, although it is unclear whether he was among them during this time.
The SSCI report does note that Dourad had "serious medical issues" at some point during his detention by the CIA, and was one of a number of detainees where "due to a lack of adequate medical care at CIA detention sites and the unwillingness of host governments to make hospital facilities available, CIA detainees had care delayed."
On 4 September 2006, Dourad was rendered along with the other HVDs from an unknown location to Guantánamo Bay, where he remains.
Further Reading
JTF-GTMO Detainee Assessment: Dourad
US Department of Defense, 19 September 2008