Sanad al-Kazimi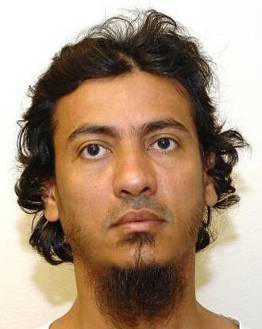 Nationality: Yemeni
Date of birth: 17 February 1970
Place of birth: Aden, Yemen
Aliases: Salah al-Kurdi, Munir al-Kurdi, Abdul Aziz Ahmad Abdullah Aloqi, Abu Malik, Majid Muhammad Umar Abdallah, Abu Ali al-Kazimi, Abduallah Aziz Ahmed, Sind Ali Yislim a-Kazimi, Al Qasim al-Yemeni, Kass
Capture: Dubai, United Arab Emirates, January 2003

SSCI prisoner number: 74
Entered CIA custody: 14 August 2003 – 17 August 2003
Period of CIA custody: 270-273 days
Left CIA custody: 13 May 2004
Detained: United Arab Emirates; Afghanistan (COBALT/GRAY and ORANGE [possibly]); Guantánamo Bay
Current status: detained, Guantánamo Bay
Sanad al-Kazimi was captured by UAE authorities in Dubai at some point in January 2003. According to Amnesty International, he was initially held for around two months in or near Dubai before being driven for about two hours to a second location. Whilst in UAE custody, he was hooded, kept in a dark room, and shackled naked for days on end. Interrogators beat him with fists, threatened him with rape, and subjected him to simulated drowning: "His eyes were covered with black goggles, his arms and legs shackled and he was lifted by a machine and submerged into a pool of cold water."
Analysis by The Rendition Project and the Bureau of Investigative Journalism has established that al-Kazimi was transferred into CIA custody at some point 14-17 August 2003. Analysis of flight data has identified a flight between the UAE and Uzbekistan in this period, by rendition aircraft N379P. It is likely that the aircraft landed in Afghanistan, either after or instead of Uzbekistan, and transferred al-Kazimi to CIA detention in the country. Click here for our analysis of flight data and documentation associated with al-Kazimi's rendition from UAE to Afghanistan.
Al-Kazimi himself has told his lawyer that he was held in Afghanistan, where he was suspended from the ceiling for extended periods of time, beaten with electrical cables, and interrogated by Jordanian officials supervised by Americans. Al-Kazimi attempted suicide several times by ramming his head into the wall until he lost consciousness.
Calculations published by the SSCI
, and further refined by our analysis, show that al-Kazimi was held by the CIA for around 9 months (270-273 days). According to
DoD records
, al-Kazimi was transferred into US military custody at Bagram Airbase on 13 May 2004. He was then transferred to Guantánamo Bay on 19 September 2004, where he remains detained.
Sources
SSCI, Committee Study of the Central Intelligence Agency's Detention and Interrogation Program, 9 December 2014
DoD, JTF-GTMO Detainee Assessment: Sanad Yislam al Kazimi, 8 July 2008
New York Times, The Guantánamo Docket: Sanad Yislam al Kazimi
Amnesty International, USA: Who Are the Guantánamo Detainees? Case Sheet 25: Sanad Ali Yislam al-Kazimi, 1 May 2008