Laid Saidi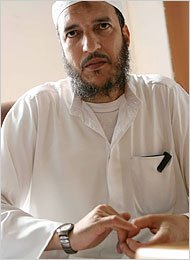 Photo: New York Times
"You are in a place that is out of this world. No one knows where you are, no one is going to defend you."
Nationality: Algerian
Date of birth: 1963
Place of birth: unknown
Aliases: Laid Ben Dohnian Saidi, Abu Hudhaifa, Ramzi ben Mizauni ben Fraj
Capture: Tanzania, 10 May 2003

SSCI prisoner number: 57
Entered CIA custody: 15 May 2003 – 19 May 2003
Period of CIA custody: 465-469 days
Left CIA custody: 26 August 2004
Detained: Tanzania; Malawi; Afghanistan (other, COBALT/GRAY and ORANGE)
Current status: released, as of August 2004
Timeline of Key Events
10-13 May 2003
Capture and detention, Tanzania
13 May 2003
Deportation, Tanzania-Malawi
13-20 May 2003
Detention, unknown location (mountains), Malawi
Around 15-19 May 2003
Rendition, Malawi-Afghanistan
Around 20-27 May 2003
Detention, unknown location 1, Afghanistan
Around 27 May - 1 June 2003
Transfer and detention, unknown location 2, Afghanistan
Around 1 June 2003
Transfer and detention, unknown location 1, Afghanistan
Around 1 June 2003 - 9 June 2004
Transfer and detention, 'Salt Pit' prison, Afghanistan
9 June 2004
Aborted rendition, Afghanistan-Tunisia
10 June 2004 - 26 August 2004
Detention, unknown location, Afghanistan
26 August 2004
Rendition, Afghanistan-Algeria
Late August 2004
Release, Algeria
With the exception of an interview he gave to the New York Times in 2006, and some passing references in the SSCI report, relatively little is known about the rendition and secret detention of Laid Saidi. The SSCI report lists Saidi as one of 26 prisoners who were "wrongly detained" by the CIA, in his case because records show that the CIA "discovered he was likely not the person he was believed to be."
Saidi had left Algeria in 1991. He travelled around the region, studying first in Yemen before moving to Kenya and then Tanzania, where he was living in May 2003. In Tanzania, he ran a branch of a Saudi charity called Al Haramain Islamic Foundation. This organisation promotes Wahabbi Islam, and was shut down after a crackdown by US and Saudi authorities, who claimed it was financing terrorism, and specifically was involved in the 1998 embassy bombings in Kenya and Tanzania.
Saidi was captured by Tanzanian police on 10 May 2003. He was taken to Dar es Salaam and detained. He admitted that he had entered Tanzania on a false passport (with Tunisian citizenship, under the name of Ramzi ben Mizauni ben Fraj), because he feared going to the Algerian embassy to claim a new one at a time when Algeria was at war with Islamists. After three days, he was officially deported, and taken to the Malawian border. Here, he was handed over to a group of Malawians and two middle-aged white men, and entered into secret detention. Saidi was taken to a detention site somewhere in the mountains, and held there for about a week. At some point towards the end of May 2003, a group of white men and women arrived, wearing black masks. He was then prepared for rendition according to the standard CIA rendition operation procedures: he was blindfolded, his clothes were cut off him, and he was photographed. His eyes were taped up, and he had a plug inserted into his anus. Then he was dressed in a diaper, had his ears covered, and was shackled by his hands and feet. He was then driven to an airport and flown overnight to Afghanistan.
Analysis of flight data has identified rendition aircraft N379P was in Djibouti on 15 May 2003, and then in Afghanistan by 19 May. It is likely that, at some point 15-19 May 2003, the aircraft transferred Saidi from East Africa (either Malawi direct, or via Djibouti) to CIA detention. Click here for our analysis of flight data and documentation associated with Laid Saidi's rendition from East Africa to Afghanistan.
Saidi has described the first prison he was held in as dark, and filled with deafening Western music. He was chained to the cell wall and left there fror about a week. He then says that he was blindfolded and shackled, and taken to a second prison, where he was hung from the ceiling and tortured for five days:
They put me in a room, suspended me by my arms and attached my feet to the floor … they cut off my clothes very fast and took off my blindfold. They beat me and threw cold water on me, spat at me and sometimes gave me dirty water to drink … The American man told me I would die there.
CIA records cited by the SSCI report confirm details of Saidi's torture. Cables document that he was "stripped and shackled nude, placed in the standing position for sleep deprivation, [and] subjected to other CIA enhanced interrogation techniques prior to being questioned by an interrogator in 2003." The standing sleep deprivation took a particular toll upon Saidi, and after 66 hours in this position, combined with prolonged nudity and dietary manipulation, his legs had begun to swell and it was discontinued. There at been no request to CIA Headquarters for the use of "enhanced interrogation techniques" on Saidi, and this treatment had not been approved.
After five days' of being hung from the ceiling and interrogated, Saidi was moved back to the first prison location, where he was held overnight before being transferred once again to a third site. This, he says, had Afghan guards, one of whom told him he was outside Kabul. It seems likely that this was the CIA black site referred to as the 'Salt Pit'. Saidi recollects there being two rows of six underground cells, each with a samll opening in the door. He was held in the 'Salt Pit' for over a year, during which time he was able to communicate with some of the other detainees. In January 2004, Khaled el-Masri was rendered to Afghanistan and held alongside Saidi. Both men have sketched identical floorplans of the prison, and both men recall talking to one another. Indeed, these two men, along with two brothers detained in the prison - Abdul al-Rahim Ghulam Rabbani and Mohammed Ahmad Ghulam Rabbani (who were captured in Pakistan alongside Ramzi bin al-Shibh and Hassan bin Attash, and who are now in Guantanamo) - spent hours each night memorising each other's phone numbers, so that if any one of them was released they could contact the families of the others. Saidi was interrogated daily, sometimes twice. It finally transpired that a mistranslation of conversations between he and his brother that intelligence agents had gathered led them to believe he was involved in some kind of terrorist plot involving 'planes'. After weeks of interrogation, his captors played a tape of him in conversation with his brother. He maintains that in fact they were discussing tyres, not 'planes', words which sound similar in Arabic ('tirat' and 'tayarat'). After he had explained this, they never asked him about it again, and the interrogations eventually stopped.
CIA records from 15 March 2004, cited by the SSCI report, note that Saidi was also subjected to submersion "in a bathtub filled with ice water" whilst detained in a CIA safehouse in Country [redacted]. It is unclear where this safehouse was, and which of his detention sites this matches with, although records show that it was at the same location as Majid Khan was held (who claims he was also subjected to the ice bath, in May 2003). The submersion in the ice bath came during a period of enforced sleep deprivation, and one CIA psychologist stated that "I heard [him] gasp out loud several times as he was placed in the tub." The incident was reported to CIA's Inspector General in March 2004, and after an investigation the IG noted that "as a result of being bathed in ice water, [Saidi] was 'shivering' and interrogators were concerned about his body temperature dropping."
On 9 June 2004, after a year in the 'Salt Pit', Saidi was rendered for a second time. Believing that he was Tunisian, the CIA flew him to Tunisia, where Saidi told the security personnel who entered the aircraft that he was in fact Algerian. At this point, he was sent back to Afghanistan on the same aircraft. Although Saidi's account does not provide exacts dates for this 'aborted rendition', flight data and associated documentation show that it took place on 9-10 June 2004, onboard the CIA-contracted Gulfstream III with tail number N982RK, operated by Richmor Aviation. This was confirmed by the Tunisian Government, who told the UN's Special Rapporteur on Human Rights and Counterterrorism that:
Laid Saidi had arrived with a "special flight" on the 9 June 2004, where he was presented by four foreign security officials to Tunisian authorities at the airport of Tunis Carthage under the name of Ramzi Ben Fredj. The Tunisian security services conducted an audit and concluded that the person had usurped the identity of the real Ramzi Ben Fredj. The person then acknowledged that he was actually Laid Saidi. The next day, on the 10 June 2004, Said was sent back with the same special flight to a "foreign country"; he was then still accompanied by the same foreign agents.
Flight data shows that the aircraft stopped in Jordan en route in both directions, with the return leg an unscheduled stop, suggesting that the renditions crew had expected to head back to the US after dropping Saidi in Tunisia. Click here for our analysis of the flight data and documentation associated with Saidi's aborted rendition from Afghanistan to Tunisia, and back again.
On return to Afghanistan, Saidi has testified that he was held for a further 75 days, although it is unclear whether this was in the 'Salt Pit' again or elsewhere. He then states that he was rendered for a third time, and taken to Algeria. Flight data again confirms this transfer: on 26 August 2004, the CIA-contracted Gulfstream IV jet with tail number N308AB, operated by Prime Jet, flew from Afghanistan to Algeria. Click here for analysis of the flight data and documentation associated with Saidi's rendition from Afghanistan to Algeria.
Once in Algeria, Saidi was handed over to Algerian intelligence. They detained him for several days before releasing him at a bus stop in Algiers, 16 months after his disappearance into secret detention.
Sources
Craig Smith and Souad Mekhennet,
'Algerian Tells of Dark Term in US Hands'
,
New York Times
, 7 July 2006.