Majid Khan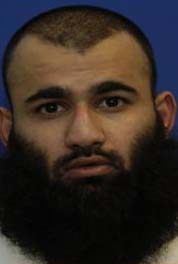 Nationality: Pakistani
Date of birth: 28 February 1980
Place of birth: Pakistan
Aliases: Adnan, Yusif, Majid Shoukat Khan, Ammar
Capture: Karachi, Pakistan, 5 March 2003

SSCI prisoner number: 58
Entered CIA custody: 15 May 2003 – 24 May 2003
Period of CIA custody: 1200-1209 days
Left CIA custody: 4 August 2006 – 5 September 2006
Detained: Pakistan, Afghanistan, unknown, Afghanistan, Guantánamo Bay
Current status: detained, Guantánamo Bay
Majid Khan is a Pakistani national who was captured in Karachi, Pakistan, on 5 March 2003 and held in the custody of a foreign government before his rendition to CIA custody. CIA cables cited by the SSCI report show that he was interrogated whilst in proxy detention throughout March and April 2003. Some of these sessions led to the provision of intelligence that was passed on to the CIA and led to the waterboarding of Khaled Sheikh Mohammed between 21-22 March 2003.
Analysis by The Rendition Project and the Bureau of Investigative Journalism has established that Majid Khan entered CIA custody at some point 15-24 May 2003. At this point CIA cables document that he was "subjected by the CIA to sleep deprivation, nudity, and dietary manipulation, and may have been subjected to an ice water bath." Further CIA cables, dated 27-28 May and 12 July 2003, document Majid Khan's torture to Headquarters, whilst an email dated 30 June 2003 was titled "Re: i hope the approvals for enhanced comes through quickly for this guy…this does not look good." Later reporting by the CIA cites Majid Khan himself, who claimed that he "fabricated a lot of his early [CIA] interrogation reporting to stop…what he called 'torture'".
Khan himself has claimed that he was "subjected to immersion in a tub that was filled with ice and water" during May 2003, and the SSCI report makes clear that this would have taken place at the same safehouse as where another prisoner, Laid Saidi, was held and subjected to an ice bath. The location of this safehouse is unclear, although it is likely to have been in Afghanistan, and the same place as the facility in which Khaled el-Masri was detained. According to el-Masri, he was held alongside Khan in Afghanistan, which would have been at some point between January-May 2004.
From March 2004 until his final transfer to Guantánamo Bay in September 2006, CIA cables cited by the SSCI report document that Majid Khan "engaged in a series of hunger strikes and attempts at self-mutilation that required significant attention from CIA detention site personnel." In response, medical personnel initially "implemented various techniques to provide fluids and nutrients, including the use of a nasogastric tube and the provision of intravenous fluids." After a number of weeks, the CIA developed "a more aggressive treatment regimen 'without unnecessary conversation.' Majid Kahn was then subjected to involuntary rectal feeding and rectal hydration, which included two bottles of Ensure. Later that same day, Majid Khan's 'lunch tray', consisting of hummus, pasta with sauce, nuts, and raisins, was 'pureed' and rectally infused. Additional sessions of rectal feeding and hydration followed." In addition to hunger strikes, Majid Khan "engaged in acts of self-harm that included attempting to cut his wrists on two occasions, a attempt to chew into his arm at the inner elbow, an attempt to cut the vein in the top of his foot, and an attempt to cut into his skin at the elbow joint using a filed toothbrush."
Little is known about where Majid Khan was held after the safehouse. He appears to have been held at the CIA-run DETENTION SITE ORANGE in December 2004, given that Marwan Jabour, when held at the same site at the same time, found an inscription under the sink in his cell, "Majid Khan, 115 December 2004, American-Pakistani".
DoD records document that Majid Khan was transferred out of the CIA's secret prison network and into US military detention in Guantánamo Bay on 4 September 2006, after around 40 months (1200-1209 days) in CIA secret detention. This transfer took place alongside the other HVDs in custody at that time. In the case of some other HVDs, however, CIA records state that they were transferred a day later, on 5 September 2006. Regardless of these inconsistencies in records, it does appears that all HVDs were moved out of CIA custody and transferred to Guantánamo Bay on 4 September or 5 September 2006. This final transfer was announced by President Bush, as part of a wider disclosure about the CIA's use of secret prisons..
Sources
SSCI, Committee Study of the Central Intelligence Agency's Detention and Interrogation Program, 9 December 2014
DoD, JTF-GTMO Detainee Assessment: Majid Khan, 13 June 2008
New York Times, The Guantánamo Docket: Majid Khan