Mustafa Al-Hawsawi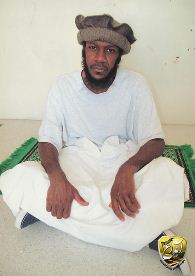 Photo: Wikimedia Commons
Nationality: Saudi Arabian
Date of birth: 5 August 1968
Place of birth: Jeddah, Saudi Arabia
Aliases: Hashim 'Abd al-Rahman, Zahir, Ayyub, Muhammad Adnan
Capture: Rawalpindi, Pakistan, 1 March 2003
Captured alongside: Khaled Sheikh Mohammed

SSCI prisoner number: 46
Entered CIA custody: 3 March 2003 – 5 March 2003
Period of CIA custody: 1280-1282 days
Left CIA custody: 4 September 2006 – 5 September 2006
Detained: Pakistan, Afghanistan, Guantánamo Bay, Morocco or Romania, Lithuania, Afghanistan, Guantánamo Bay
Current status: detained, Guantánamo Bay
Mustafa al-Hawsawi is a Saudi national who was captured in Rawalpindi, Pakistan, alongside Khaled Sheikh Mohammed, on 1 March 2003. He was held in secret CIA detention for the next three-and-a-half years, before being transferred to military detention in Guantanamo Bay in September 2006, where he is still being held. The US Government alleges that al-Hawsawi is a 'senior al-Qaida member who supported al-Qaeda's terrorist network as a facilitator, financial manager, and media committee member', and who also supported the movement and funding of the 9/11 hijackers into the US.
Al-Hawsawi and Khaled Sheikh Mohammed were captured together in a joint raid by the CIA and Pakistani intelligence (ISI), who transferred them immediately to US custody. There is little in the way of concrete information in the public domain detailing the fate and whereabouts of al-Hawsawi between the date of his capture and his reappearance with other 'High-Value Detainees' into US military detention at Guantanamo Bay in September 2006.
Assuming that al-Hawsawi was initially transferred alongside Khaled Sheikh Mohammed, CIA records show that he would have entered CIA custody at some point 3-5 March 2003. Cables cited by the SSCI report document that he was first interrogated by the CIA around 10 March 2003. At this stage he was being held in the CIA-run DETENTION SITE COBALT in Afghanistan. Cables show that he was tortured during 5-6 April 2003, and subjected to "water dousing" which approached, or was equivalent to, waterboarding. According to one interrogator who spoke to al-Hawsawi about his treatment:
We did not prompt al-Hawsawi – he described the process and the table on his own. As you know, I have serious reservations about watering them in a prone position because if not done with care, the net effect can approach the effect of the water board. If one is held down on his back, on the table or on the floor, with water poured in his face I think it goes beyond dousing and the effect, to the recipient, could be indistinguishable from the water board.

I have real problems with putting one of them on the water board for 'dousing.' Putting him in a head down attitude and pouring water around his chest and face is just too close to the water board, and if it is continued may lead to problems for us.

This incident was later referred to the CIA inspector general for investigation. The IG found that "water was poured on al-Hawsawi while he was lying on the floor in a prone position." The investigation was unable to establish whether al-Hawsawi was strapped to the waterboard during the 6 April 2003 interrogation, but both of the interrogators present said that he "cried out for God while the water was being poured on him." Al-Hawsawi's experience, and that of another detainee at COBALT, Khalid al-Sharif, is partially corroborated by the existence of a CIA photograph seen by the SSCI. Despite the absence of CIA records of waterboarding at COBALT, this photo was taken at the site and shows a "waterboard device in the photograph... surrounded by buckets, with a bottle of unknown pink solution (filled two thirds of the way to the top) and a watering can resting on the wooden beams of waterboard." In meetings between the SSCI and the CIA, the CIA was "unable to explain the details of the photograph, to include the buckets, solution, and watering can, as well as the waterboard's presence at DETENTION SITE COBALT."
As well as water dousing or waterboarding, al-Hawsawi was subjected to "rectal exams conducted with 'excessive force'" whilst at COBALT. CIA records cited by the SSCI report document that, as a result, he was later "diagnosed with chronic haemorrhoids, an anal fissure, and symptomatic rectal prolapse."
CIA officials speaking to the Associated Press' Adam Goldman have confirmed that al-Hawsawi was held in Afghanistan until September 2003. At this point he was transferred to a secret CIA prison located alongside the military facility in Guantanamo Bay. Al-Hawsawi, along with at least five other 'High-Value Detainees', was part of a rendition circuit carried out by the CIA-owned Boeing 737 with tail number N313P, which took detainees from prisons in Afghanistan, Poland and Morocco and transferred them to two newly-opened CIA prisons in Romania and Guantanamo Bay. Those on board this circuit included al-Nashiri, Abu Zubaydah, Ramzi bin al-Shibh, Khaled Sheikh Mohammed and Walid bin Attash. Click here for our analysis of the flight data and documentation associated with this rendition circuit, and the transfer of al-Hawsawi from either Afghanistan or Poland to Guantanamo Bay.
Following the decision in November 2003 by the US Supreme Court that it would hear the cases of a number of Guantanamo detainees, consolidated as Rasul v Bush, aimed at challenging the legality of their detention, the CIA feared that US courts would begin to assert a hold over the Agency's most-prized detainees, and that details of the CIA's rendition and secret detention program would begin to emerge. As a result, in March and April 2004 the 'High-Value Detainees' that had been secretly held in the CIA facility at Guantanamo, including al-Hawsawi, were rendered back out of the island and distributed among numerous black sites around the world. There are two flights in particular that appear to have been rendition flights out of Guantanamo Bay during this time, both made by the privately-owned Gulfstream IV jet with registration number N85VM, which had been contracted as part of the CIA's overall outsourcing of some elements of the rendition programme.
It is unclear where al-Hawsawi was transferred to following his removal from the secret CIA detention facility at Guantanamo in March or April 2004, although it is likely to have been Morocco, Romania or both.He was then, at a later stage, held in the CIA-run DETENTION SITE VIOLET, in Lithuania. CIA records cited by the SSCI report document the refusal of a [redacted] country to admit al-Hawsawi to a local hospital "despite earlier discussions with country representatives about how a detainee's medical emergency would be handled." Although this passage is heavily redacted, it can be deduced that this country was in fact Lithuania.
Given that al-Hawsawi was held in Lithuania, it is likely that he was among those moved back to Afghanistan in March 2006, when VIOLET closed, and held in the CIA-run DETENTION SITE BROWN.
DoD records document that al-Hawsawi was transferred out of the CIA's secret prison network and into US military detention in Guantánamo Bay on 4 September 2006, after three and a half years (1280-1282 days) in CIA secret detention. This transfer took place alongside the other HVDs in custody at that time. In the case of some other HVDs, however, CIA records state that they were transferred a day later, on 5 September 2006. Regardless of these inconsistencies in records, it does appears that all HVDs were moved out of CIA custody and transferred to Guantánamo Bay on 4 September or 5 September 2006.This final transfer was announced by President Bush, as part of a wider disclosure about the CIA's use of secret prisons.
Mustafa al-Hawsawi remains detained in Guantanamo Bay.