Walid Mohammed bin Attash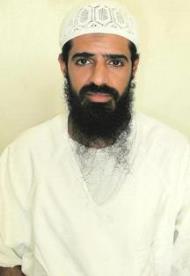 Photo: Wikimedia Commons
Nationality: Yemeni
Date of birth: 1978
Place of birth: Azan, Shabwah district, Yemen
Aliases: Ba Attash al-Dini; Walid Muhammad Salih Ba Atash; Khaled bin Attash; Khallad bin Attash; Khalad; Khajed; Khallad; Saleh Saeed Muhammad bin Yousaf; Silver; Tawfiq bin Attash
Capture: Karachi, Pakistan, 29 April 2003
Captured alongside: Ammar al-Baluchi

SSCI prisoner number: 56
Entered CIA custody: 15 May 2003 – 16 May 2003
Period of CIA custody: 1207-1209 days
Left CIA custody: 4 August 2006 – 5 September 2006
Detained: Pakistan, Afghanistan, Poland, Romania, unknown, Guantánamo Bay
Current status: detained, Guantánamo Bay
Timeline of Key Events
29 April 2003
Capture, Karachi, Pakistan (alongside Ammar al-Baluchi)
29 April - 15-16 May 2003
Detention, unknown location, Pakistan
15-16 May 2003
Rendition, Pakistan-Afghanistan
15-16 May - 5 June 2003
Detention, unknown location, Afghanistan
5 June 2003
Rendition, Afghanistan-Poland
5 June - 22 September 2003
Detention, CIA black site, Poland
22 September 2003
Rendition, Poland-Romania
22 September 2003 - 2005
Detention, CIA black site, Romania
2005 - 4-5 September 2006
Further detentions and renditions with other 'High-Value Detainees', unknown dates and locations (possibly Lithuania and/or Afghanistan)
4-5 September 2006
Rendition, unknown location - Guantánamo Bay
4-5 September 2006 - Present
Detention, DoD facility, Guantánamo Bay
Walid bin Attash is a Yemeni national who was captured in a unilateral operation by Pakistani authorities in Karachi on 29 April 2003, alongside Ammar al-Baluchi and four others. Bin Attash spent three-and-a-half years in secret CIA detention before being transferred to Guantánamo Bay in September 2006, where he is still being held. The US Government has accused bin Attash of being a 'senior al-Qaeda lieutenant and former bodyguard for Osama bin Laden', and in 2008 he was one of five detainees charged with conspiracy in relation to the 9/11 attacks. His brother, Hassan bin Attash, was disappeared by the CIA in September 2002, and is also currently held in Guantánamo Bay.
According to CIA records cited by the SSCI report, bin Attash was initially held in foreign government custody, where he was interrogated on a number of matters. Walid bin Attash and Ammar al-Baluchi both remained in foreign government "for approximately [redacted] weeks." The word under the redaction appears to be "two", and this would fit with other information gleaned from CIA records. On [redacted] May 2003, both men were "rendered to CIA custody and immediately subjected to the CIA's enhanced interrogation techniques." Elsewhere, the SSCI report cites records documenting the use of EITs on al-Baluchi between 17-20 May 2003, and on bin Attash between 16-18 May 2003. This suggests that they were rendered to CIA custody at some point 15-16 May 2003.
Bin Attash and al-Baluchi were initially held in DETENTION SITE COBALT in Afghanistan. On 16 May 2003, CIA officers at the site requested approval from Headquarters for the use of EITs on bin Attash, and this was granted on the same day. Between 17-18 May 2003, CIA records cited by the SSCI report document that bin Attash was subjected to facial grabs, facial insult slaps, abdominal slaps, walling and water dousing.
Bin Attash's own testimony,
provided to the International Committee of the Red Cross (ICRC)
, confirms the use of torture outlined within the SSCI report. He has said that he was held in Afghanistan for around three weeks from mid-May to the beginning of June 2003. For the first two weeks of his detention in Afghanistan, he has claimed that he was placed in stress positions for extended periods, beaten, and doused in cold water.
Walid bin Attash's account of his torture in Afghanistan (source: ICRC)
On arrival at the place of detention in Afghanistan I was stripped naked. I remained naked for the next two weeks. I was put in a cell measuring approximately 1m x 2m. I was kept in a standing position, feet flat on the floor, but with my arms above my head and fixed with handcuffs and a chain to a metal bar running across the width of the cell. The cell was dark with no light, artificial or natural.
During the first two weeks I did not receive any food. I was only given Ensure and water to drink. A guard would come and hold the bottle for me while I drank. During the third week the Ensure continued, but I was also provided with one meal each day. This consisted of either gravy and bread or rice and potatoes. The toilet consisted of a bucket in the cell, which was removed once a day. I was not allowed to clean myself after using the bucket. Loud music was playing twenty-four hours each day throughout the three weeks I was held there.
After some time of being held in this position my stump began to hurt so I removed my artificial leg to relieve the pain. Of course my one good leg then began to ache and soon started to give way so that I was left hanging with all my weight on my wrists. I shouted for help but at first nobody came. Finally, after about one hour a guard came and my artificial leg was given back to me and I was again placed in the standing position with my hands above my head. After that the interrogators sometimes deliberately removed my artificial leg in order to add extra stress to the position. For the first two weeks I was held in this position apart for two or three times when I was allowed to lie down, but I cannot remember for how long.
Usually, throughout the interrogation, the methods they used were specifically designed not to leave marks... For interrogation I was blindfolded and removed from the cell and taken to another room. Every day for the first two weeks I was subjected to slaps to my face and punches to my body during the interrogation. This was done by one interrogator wearing gloves. He was then replaced by a second interrogator who was more friendly and pretended that he could save me from the first interrogator.
Also on a daily basis during the first two weeks a collar was looped around my neck and then used to slam me against the walls of the interrogation room. It was also placed around my neck when being taken out of my cell for interrogation and was used to lead me along the corridor. It was used to slam me against the walls of the corridor during such movements.
Also on a daily basis during the first two weeks I was made to lie on a plastic sheet placed on the floor which would then be lifted at the edges. Cold water was then poured onto my body with buckets. They did not have a hose-pipe to fill the sheet more easily. This jail was not so well equipped for torture. I would be kept wrapped inside the sheet with the cold water for several minutes. I would then be taken for interrogation to a separate room. At the end of the interrogation I would be placed under hot lights to dry out thoroughly and warm up. This was sometimes done during the interrogation.
The interrogators threatened to infect me with HIV. I was given at least two injections by the doctor during this period, but I have no idea what they were for. Female interrogators were also present which I found highly humiliating in my naked state. The female interrogators did not take part in physical ill-treatment.
After around three weeks in this detention facility, which would have been on or around 5 June 2003, bin Attash says that he was blindfolded, had earphones placed on his ears, and was transferred to another location: 'I was transported in a sitting position, shackled by the ankles and by the wrists with my hands in front of my body. I think the flight lasted probably more than eight hours. On this occasion the transfer was done using a military plane. If I shifted my position too much during the journey somebody hit me by hand on the head'.
Several sources speaking in confidence to Dick Marty, the Council of Europe's rapporteur who investigated European complicity in the rendition programme, claimed that bin Attash was held in Poland during the time that the CIA had a secret prison in the country. Investigations by the Council of Europe Commissioner for Human Rights, published in a 2012 memo titled Advancing Accountability in Respect of the CIA Black Site in Romania, also places bin Attash in Poland after his detention in Afghanistan. This destination matches with the detainee's recollection of an eight-hour flight time. Moreover, flight data collected by The Rendition Project documents a flight from Afghanistan to Poland on 5 June 2003, by the CIA-owned Gulfstream V with tail number N379P. This is a known renditions aircraft, and the flight into Poland was disguised by the use of a 'dummy' flight plan, which is a key characteristic of detainee transfer flights into and out of Europe. From Poland, it is known that the aircraft flew onto Morocco, with two further 'High-Value Detainees' on board, Abd al-Rahim al-Nashiri and Ramzi bin al-Shibh. In all, therefore, it seems likely that this rendition circuit by N379P carried bin Attash from his detention in Afghanistan to further secret detention in the CIA black site in Poland. Click here for our analysis of the flight data and documentation associated with this rendition circuit.
While in Poland – a location which bin Attash has referred to only as his 'next place of detention' – he has testified that he was kept in a cell for the first month before the torture started again.
Walid bin Attash's account of his detention in Poland (source: ICRC)
I arrived in the next place of detention during June 2003. I think I was detained underground as I had to walk down some cells in order to reach the cell. My blindfold was then removed. The cell was about 4m x 5m. I was kept chained by my ankle shackles to a pin fixed in the floor. For the first month here I was not subject to any torture.
I was not allowed to shower. Meals were provided three times a day in addition to Ensure and multivitamins. Toilet consisted of a bucket in the cell which was removed every day. Loud music was playing twenty-four hours each day. I was provided with a Styrofoam mattress.
After about one month the torture began again. I was stripped naked and remained naked throughout the month of July. Also during this time I was again kept for several days in a standing position with my arms above my head and fixed with handcuffs and a chain to metal ring in the ceiling. My lower leg was examined on a daily basis by a doctor using a tape measure for signs of swelling. I do not remember for exactly how many days I was kept standing, but I think it was about ten days. The doctor finally ordered that I be allowed to sit on the floor, I was still kept with my arms extended above my head. This was very painful on my back. During the standing I was made to wear a diaper. However, on some occasions the diaper was not replaced and so I had to urinate and defecate over myself. I was washed down with cold water every day.
In this place of detention they were rather more sophisticated than in Afghanistan because they had a hose-pipe with which to pour water over me. After having been washed down with cold water in my cell I was taken for interrogation. On one occasion I heard sounds of a person being tortured next door. In this place of detention, female interrogators were again present while I was naked
.
This account of his torture at the CIA-run DETENTION SITE BLUE is confirmed by CIA records. After more than a month at the site, cables cited by the SSCI report document the use of EITs on bin Attash between 18-29 July 2003. Specifically, they recount the extensive use of sleep deprivation between 21-23 July 2003, including more than 110 hours of deprivation in one session with only four hours rest between. This had begun as standing sleep deprivation, but due to the swelling of his one leg he was moved to seated sleep deprivation after 93 hours. Cables document the use of nudity and dietary manipulation during this period, with one cable, dated 22 July 2003, noting that threats were made to subject bin Attash to rectal rehydration.
On 22 September 2003, Walid bin Attash and the other detainees still held in Poland at that point were transferred out of the country, on board the CIA-owned Boeing 737 with the tail number N313P. The aircraft flew a disguised flight direct to Bucharest, Romania, where some of the detainees – including bin Attash – were offloaded. Others remained on the aircraft, which then flew another disguised flight to Morocco to pick up further detainees, and then to Guantánamo Bay to deliver them to secret detention there. Click here for our analysis of the flight data and documentation associated with Walid bin Attash's rendition from Poland to Romania.
Little is known about bin Attash's time in Romania, or even the length of his detention in the black site. The Council of Europe's 2012 investigation into the prison in Romania found that detainees who had been moved from Poland in September 2003 had, by that time, been considered to have lower intelligence value after some months in CIA detention. This set of detainees, according to the report, were less likely to have been subjected to 'enhanced interrogation techniques' while in Romania (which was not the case for 'High-Value Detainees' such as Janat Gul and Abu Faraj al-Libi, who were captured during 2004-2005 and taken directly to Romania for 'enhanced interrogation').
Very little is known about the fate and whereabouts of bin Attash and the other 'High-Value Detainees' after their time in Romania. Most were likely moved during 2005, with evidence pointing towards Lithuania and Afghanistan as the final detention sites before their final transfer out of secret detention in September 2006. Click here for an analysis of where the 'High-Value Detainees' – including Walid bin Attash – may have been held during 2005-2006.
DoD records document that bin Attash was transferred out of the CIA's secret prison network and into US military detention in Guantánamo Bay on 4 September 2006, after around 40 months (1207-1209 days) in CIA secret detention. This transfer took place alongside the other HVDs in custody at that time. In the case of some other HVDs, however, CIA records state that they were transferred a day later, on 5 September 2006. Regardless of these inconsistencies in records, it does appears that all HVDs were moved out of CIA custody and transferred to Guantánamo Bay on 4 September or 5 September 2006. This final transfer was announced by President Bush, as part of a wider disclosure about the CIA's use of secret prisons.
Bin Attash remains detained in Guantánamo Bay, where he has been charged with conspiracy in relation to the 9/11 attacks and is facing a military trial along with Khaled Sheikh Mohammed, Ramzi bin al-Shibh, Mustafa Ahmad al-Hawsawi, and Ammar al-Baluchi.