Ali al-Hajj al-Sharqawi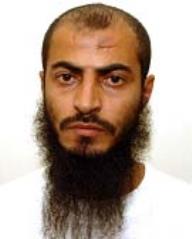 Photo: JTF-GTMO Detainee Assessment
Nationality: Yemeni
Date of birth: 26 May 1974
Place of birth: Taiz, Yemen
Aliases: Riyadh the Facilitator, Abdul Qadir, al-Mudhafar, Aziz, Hassan, Haytham, Riyadh al-Taizi, Abu Talha al-Yemeni, Sharqawi Ali Abdu al-Hajj
Capture: Karachi, Pakistan, 7 February 2002
Captured alongside: 16 others, all taken to Guantánamo Bay
SSCI prisoner number: 93
Entered CIA custody: 8 January 2004
Period of CIA custody: 120-129 days
Left CIA custody: 10 May 2004 – 16 May 2004
Detained: Pakistan, Afghanistan, Jordan, Afghanistan, Guantánamo Bay
Current status: detained, Guantánamo Bay
Timeline of Key Events
7 February 2002
Capture, Karachi, Pakistan
7 February – mid-February 2002
Detention, unknown location, Pakistan or Afghanistan (possibly)
11/15 February 2002
Rendition, Afghanistan-Jordan
15 February 2002 – 8 January 2004
Detention, GID facility, Jordan
8 January 2004
Rendition, Jordan-Afghanistan
8 January – May 2004
Detention, Dark Prison, Afghanistan
May 2004
Transfer, Dark Prison – Bagram Airbase, Afghanistan
May - 19 September 2004
Detention, Bagram Airbase, Afghanistan
19 September 2004
Rendition, Afghanistan – Guantánamo Bay
19 September 2004 – Present
Detention, DOD facility, Guantánamo Bay
Ali al-Hajj al-Sharqawi is currently a detainee in Guantánamo Bay, and spent over two-and-a-half years prior to this disappeared within the US secret prison network. He is accused by the US Government of being as 'senior al-Qaeda facilitator', recruiting bodyguards for bin Laden and having ties with 9/11 planners.
Al-Sharqawi was captured in Karachi, Pakistan, on 7 February 2002, in a raid on a 'suspected al-Qaeda safe house' by Pakistani intelligence (ISI) and US forces. 16 others were captured in the raid, all of whom were eventually transferred to Guantánamo Bay. According to the SSCI report, al-Sharqawi was then transferred to [redacted] custody on [redacted] February 2002. From al-Sharqawi's own testimony plus matching rendition aircraft movements, it is clear that he was rendered to Jordanian custody in mid-February 2002.
Flight data analysed by The Rendition Project has identified a flight circuit by the known renditions aircraft with tail number N379P which may have included a flight between Afghanistan and Jordan in mid-February 2002. The CIA-owned Gulfstream V jet left the US on 6 February, the day before al-Sharqawi's capture, and flew via Europe to Dubai. There it disappeared from view, suggesting that it continued away from European airspace. It then appeared again in Amman, Jordan on 11 February, before flying to the UK and then Iraq. From Iraq it disappeared again, before reappearing in Jordan for a second time, on 15 February. Although not documented, a flight from Afghanistan to Jordan on either 11 or 15 February (or both) would fit with the known movements of this aircraft, and also with al-Sharqawi's likely transfer date.
In Jordan, al-Sharqawi was held at the GID Headquarters in Wadir Sir, Amman for almost two years, from February 2002 until January 2004. For most of this time, he was held alongside Hassan bin Attash, who was rendered to Jordan in September 2004. During his detention, al-Sharqawi penned a long account of his treatment and signed it with his thumbprint. This note was smuggled out in 2003 and handed to Joanne Mariner from Human Rights Watch. The organisation also has a statement of his treatment written by al-Sharqawi in 2006. Both sources provide a shocking account of his torture in Jordan.
Al-Sharqawi's account of torture in Jordan

I was being interrogated all the time, in the evening and in the day. I was shown thousands of photos, and I really mean thousands, I am not exaggerating .... And in between all this you have the torture, the abuse, the cursing, humiliation. They had threatened me with being sexually abused and electrocuted. I was told that if I wanted to leave with permanent disability both mental and physical, that that could be arranged. They said they had all the facilities of Jordan to achieve that. I was told that I had to talk, I had to tell them everything.
They beat me in a way that does not know any limits. They threatened me with electricity, with snakes and dogs. They say we'll make you see death. They threatened to rape me.
He also said that his interrogators acknowledged asking questions passed on by the Americans, and that: 'Every time that the interrogator asks me about a certain piece of information, and I talk, he asks me if I told this to the Americans. And if I say no he jumps for joy, and he leaves me and goes to report it to his superiors, and they rejoice'. Al-Sharqawi has also told his lawyers that he was hidden in the soldiers' lecture room whenever the ICRC came to visit.
Al-Sharqawi says he was subjected to 'continuous torture and interrogation for the whole of two years'. Then, at about 11pm on 7 January 2004, he was taken from his cell, put in a car and handed over to the Americans, who drove him to the airport and rendered him to the 'Dark Prison' in Kabul, Afghanistan. Hassan bin Attash was also on this flight, and the two detainees were shifted together through the system from this point until they emerged in Guantánamo Bay nine months later.
Al-Sharqawi's account of his rendition (source: legal team)
He was taken to the airport in a black hood that came down to his shirt. When [he and the Americans] arrived at the airport, they cut his clothes off, searched his anus and gave him diapers, shorts, a sleeveless shirt and plastic handcuffs. He stood in the room for an hour in handcuffs tied to the walls. They took pictures of him. Then they came for him, tied his feet together and tied his hands together.
One other man [presumably bin Attash] was thrown into a luggage cart, and Sharqawi was picked up like a sack and thrown on top of him. Then they carried him like a sack and threw him into the plane
.
Analysis of flight data held by The Rendition Project confirms the rendition to Afghanistan on 8 January 2004, on board the CIA-owned Boeing 737 with registration number N313P. Al-Sharqawi and bin Attash were then detained in the Dark Prison alongside several other men, one of whom – Khaled al-Maqtari – has provided a detailed list of who was detained in each cell during the first few months in 2004, along with a floor plan of the facility. This list is similar to the one provided by Mohammed al-Shoroeiya and Khalid al-Sharif in interviews with Human Rights Watch, as well as details provided by Mohamed Bashmilah. Drawing on this information, it is possible to surmise the detainees in the prison in early 2004.
Detainees in the Dark Prison, 2003-2004 (aliases by which they were known while at the site in brackets):
Mohammed al-Shoroeiya (Hassan Riba'i), held April 2003-April 2004
Khalid al-Sharif (Hazim al-Libi), held April 2003-April 2004
Mohamed Bashmilah (Shumilla), held October 2003-April 2004
Salah Qaru (Marwan al-Adenni), held October 2003-April 2004
Majid al-Maghrebi (Adnan al-Libi), held December 2003-April 2004
Khaled al-Maqtari, held January-April 2004
Saleh Di'iki (Sheikh Saleh al-Libi), held January-April 2004
Mohammed al-Asad, held January-April 2004
Hassan bin Attash (Umayr bin Attash), held January-May 2004
Ali al-Hajj al-Sharqawi (Riyadh al-Sharqawi), held January-May 2004
Binyam Mohamed, held January-May 2004
Ibn Sheikh al-Libi (Mohamed al-Fakheri)
Sanaad al-Kazimi (Abu Malik al-Qasemi)
Abu Abdullah (Mu'ath al-Suri)
Ahmed the Malaysian
Abu Abdullah al-Saudi
Unknown Somali man
According to al-Maqtari, Majid al-Maghrebi – who was in the cell next to his – managed to speak to him during a break in the 'excruciatingly loud' music, and told him that al-Sharqawi was also in the prison, and had been 'tortured horribly' in Jordan. Al-Sharqawi's own account, penned in 2006, described the prison as 'a pitch dark place, with extremely loud scary sounds'.
According to CIA cables cited by the SSCI report, al-Sharqawi was transferred to US military custody on [redacted] May 2004. Analysis by The Rendition Project and the Bureau of Investigative Journalism has established that this was at some point 10-16 May 2004, after around four months in CIA custody. al-Sharqawi's detention by the US military was almost certainly at Bagram Airbase, as confirmed by al-Sharqawi and also three other detainees held in the Dark Prison at the same time – bin Attash, Binyam Mohamed and al-Kazimi – who were also transferred from Bagram Airbase to Guantánamo Bay with al-Sharqawi in September 2004. Both bin Attash and Binyam Mohamed have testified that they were moved in May 2004, and Mohamed has said that he was transferred by helicopter with other detainees 'tied like hens going for slaughter'. It is likely that al-Sharqawi was transferred at the same time.